With the implementation of the new customer portal, Mimacom has significantly contributed to the digital transformation of our business model. Together with the customer, we now benefit from fast and intelligent service.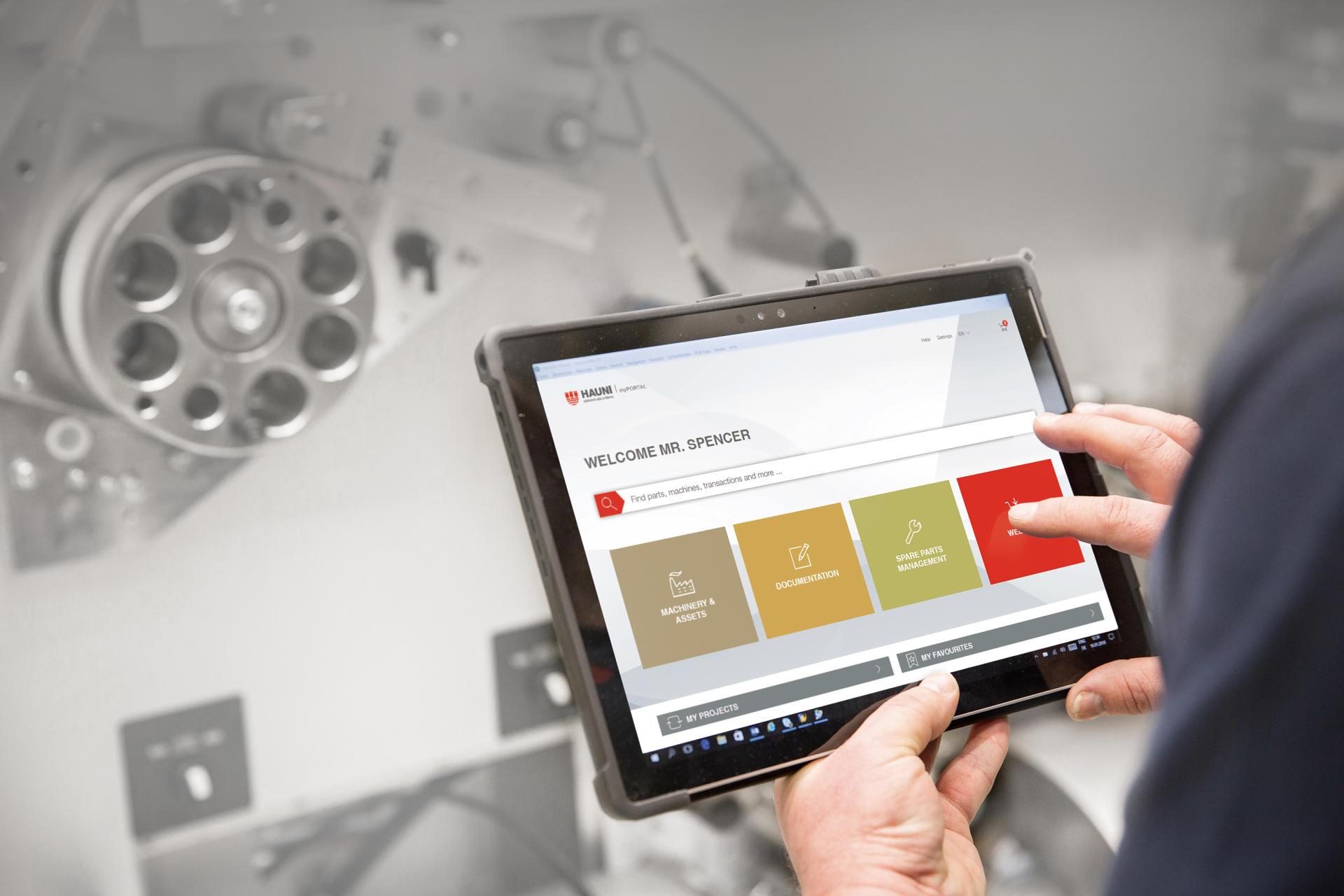 The digitalization and automation of comprehensive customer services enables Hauni, a leading machine builder in its industry, to offer a broad portfolio of services for machines on a digital platform. Not only can spare parts for machines be purchased worldwide, but specific and individual information can be easily accessed. Using the Digital Accelerator Program, Mimacom has created a portal for intelligent after-sales service that represents decisive technological progress within the tobacco industry.
Background: The market situation in mechanical engineering is increasingly changing towards automation, digitalization and data analysis. To meet this trend and guarantee customers an outstanding user experience, Hauni decided to digitalize numerous processes in customer service. In addition to comprehensive self-service and spare parts management services, these included the redesign of the previous e-commerce platform.
From managing and identifying one' s own machine part via information on maintenance options and software status, to ordering spare parts including 3D technical documentation: customers can now benefit from knowing the operational status and getting tips and training on their individual Hauni machine. At the heart of the portal there is the web shop where the right spare parts can be identified, compared and ordered. This ensures that the right parts are delivered at the right time and storage costs are being optimized. Moreover, an area for managing joint customer projects enables transparent cooperation and takes the B2B portal including e-commerce, to a new level of customer experience.
A digital solution in the shortest amount of time
Thanks to Mimacom ́s method, the so-called Digital Accelerator Program, the advantages for Hauni became apparent not only after the project was complete but during the course of the project. A functional digital solution (MVP) for each customer area and web shop was developed very quickly. After interactive prototyping, these areas were finally brought together within a user-centric design. By describing the requirements using user stories and a visual description of the user flow, Mimacom was able to successfully implement a complex project within a few months.
In order to support us in this challenge, Mimacom has evaluated our customer touchpoints and together with us, developed value-added functionalities along the customer journey. These are now all available to our customers within one platform.
Sören Bengelsdorf, Program Manager Digital Sales and Marketing at Hauni (now Körber Technologies)
Solution: With its design-thinking approach, Mimacom has combined advantages from different areas and guaranteed Hauni continuous planning reliability and investment security. As a result, Hauni's end-to-end customer cycle was optimized, digitalized and modernized in multiple ways:
The solution concept was based on agile parameters

The development of a platform based on Liferay DXP according to the MVP principle

Integration of SAP CRM and SAP R3

Headless implementation of e-commerce based on SAP Hybris

Seamless user interface based onAngular 5 creates a consistent, reactive user journey
Pioneering role thanks to outstanding customer experience
Hauni customers today benefit from innovative services, reduced complexity and a digital touchpoint. "The portal offers much more than I expected and is also very user-friendly," says one Hauni customer about the outstanding customer experience. This gives Hauni itself a pioneering role as a digital provider of technologies and technical services in the international tobacco industry. In the future, Hauni is therefore planning to extend its market leadership to digital platforms by continuously expanding its customer portal, thus leveraging the potential of new trends and business models such as IoT.