The collaboration platform for special transport permits on Swiss roads offers our users convenience and enormously simplifies the application process. The Mimacom project team mapped our requirements and processes exactly with Flowable Work.
Marco Piscopo, Technical Project Manager Swiss Federal Roads Office FEDRO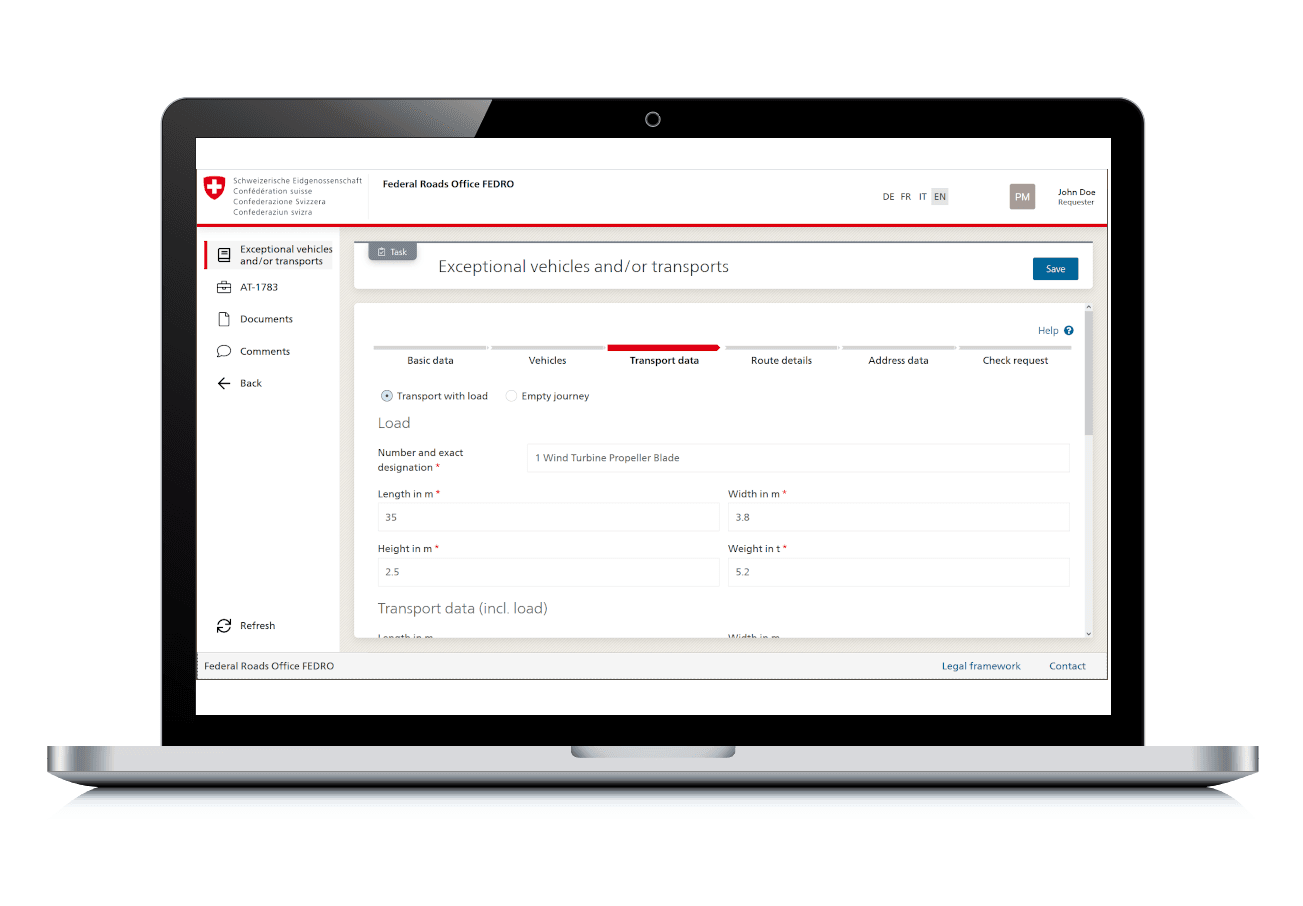 The challenge: Digital transformation in public administration
Background: and no longer in keeping with the times had pushed the administrators of special transport permits to their limits: The only digital tools available were a long, unintuitive online form, e-mail, text modules in Word, and PDF generators. The manual and heavily paper-dominated process was also cumbersome for the users. Data related to the vehicle and trailers, such as axles and weight, had to be manually copied or reentered again completely for every individual permit.
The Swiss Federal Roads office therefore decided to make the digital transformation with Mimacom. Together, they planned a comprehensive digital solution for FEDRO, which seamlessly guides users through the sometimes very complex process of applying for special road traffic permits.
The solution: Efficient digital processes thanks to Flowable Work
The digital collaboration platform provided FEDRO and all other parties involved with highly digitalized process support and automation. On the basis of Flowable Work and in collaboration with Mimacom, FEDRO has succeeded in creating a realistic mapping of the workflows to provide digital support and automation for issuing permits along the entire process chain.
The Online-Collaboration platform increases efficiency and convenience for authorities and users alike.
Key elements for the success of the collaboration platform
The comprehensive integration of the platform makes it the pivot point for all road traffic special permits. Alongside the graphical user interfaces for FEDRO employees, the collaboration platform offers a web service for connecting to all canton road traffic offices: A turn-key interface (API) is available to the cantons to connect up their own systems. As an option, the collaboration platform provides a graphical user interface for the cantons until their canton systems can be technically integrated.
Long-term benefits of the digital solution
The special permit platform began operation in June 2021 successfully. Employees in the cantons in particular are very satisfied. Over 6000 applications were processed within the first 10 days without any major problems. In addition to the newly created positive user experience and increased efficiency for the customers, the platform also offers FEDRO a whole host of benefits. It simplifies the prioritization of applications and automates the application review process to the greatest extent possible. The solution provides everyone involved an efficient and paperless way to complete the permit approval process. At all times, it is clear to all those involved what the next required steps are and who still has to clarify which issues before the permit can be issued. The increased transparency along the entire process simplifies communication, eliminates sources of errors and increases the efficiency of processing special transport permit applications.