For a bank to attract potential new clients these days, it has to meet high client expectations. Any product-related transactions concluded online should be quick and hassle-free. With Migros Bank, Mimacom developed a solution that uses process automation to reduce the time required for the onboarding process from several days to around 20 minutes.
With Mimacom, we have found a reliable partner for digitalization and automation. The dedicated and competent team helped us to provide digital onboarding with fast processing and excellent user experience in the shortest possible time. The successful project is a complete success for Migros Bank and our clients!
Daniel Bolt, Head of Business Development at Migros Bank
Background
New requirements for an existing process 
Successful acquisition of new clients is crucial for banks to remain competitive. Migros Bank has identified client proximity as a success factor. As a result, they are implementing automation to expedite the onboarding process and enhance the overall customer experience.
Onboarding is the first impression our clients get of our bank. Therefore, we want to offer them a positive experience without a lot of bureaucracy and long waiting times. We see great potential in the automation of selected business processes. In addition to the potential for acceleration, it also simplifies the work for our employees.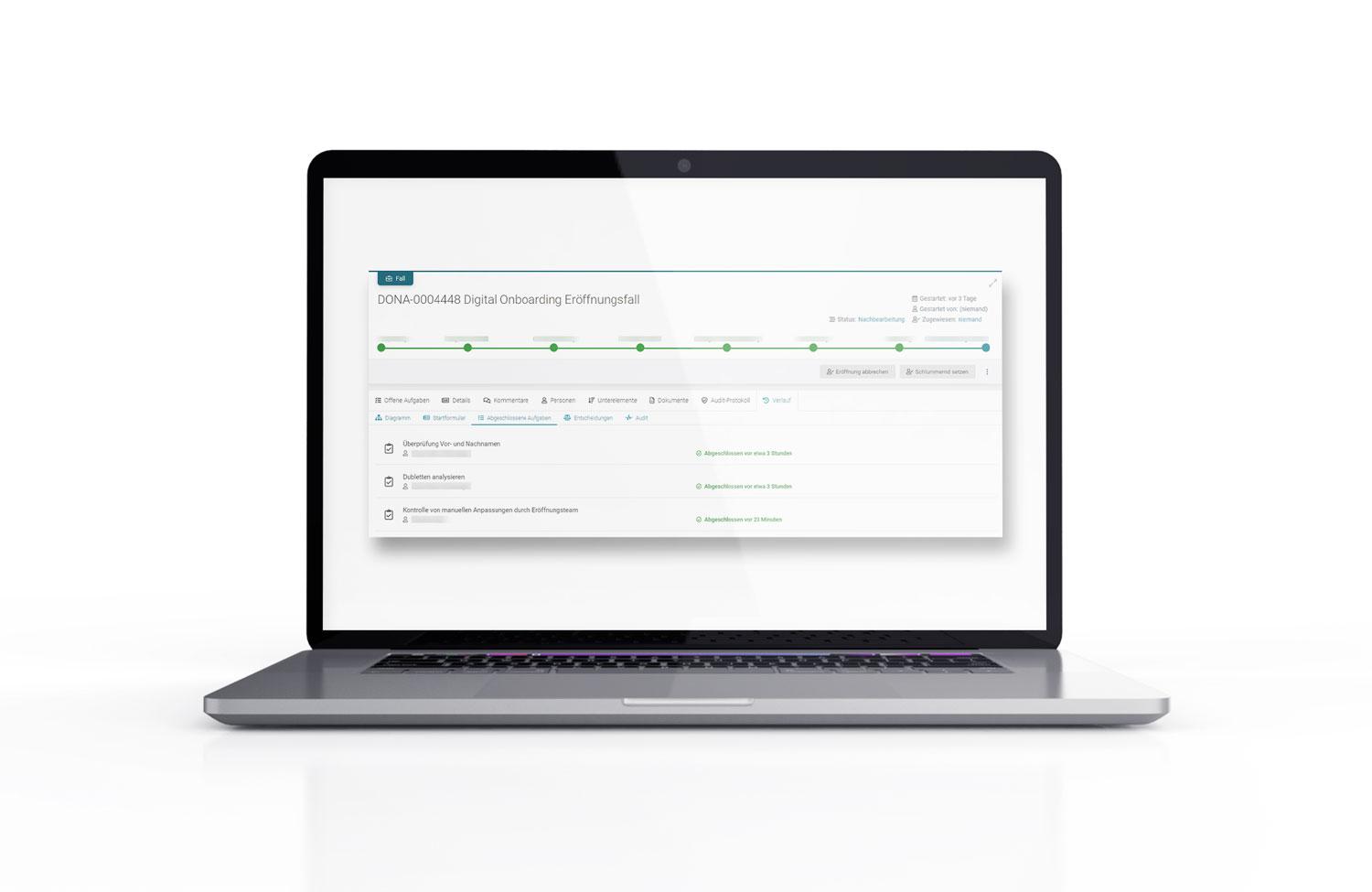 At the time of the project launch, there was already an option available for new clients to open accounts online. However, this process took a significant amount of time, often lasting up to two weeks. The bank sought to replace the manual processes to meet today's client expectations. The first digital approaches were available but were still in their infancy. Migros Bank aimed to accelerate digital onboarding for private clients in Switzerland. To accomplish this, the existing solution had to be optimized and brought to a new level.
Focus on process acceleration
Simplified and faster processes along the customer journey were needed to upgrade the solution. New clients should be able to open an account online in the shortest possible time. This should significantly improve the customer experience. The solution envisaged automating all internal opening steps to expedite the account opening process: The manual handling of account opening by employees in the back office would be replaced by automated processes to ensure a short turnaround time in the future. This would also reduce the workload of the back office employees, allowing them to focus on other matters. 
Easily meeting compliance requirements
For the overall design of the software solution, it was important to take into account the regulatory requirements of the onboarding process, such as the protection of personal data during the processing or the management of sensitive data. Mimacom, as a long-standing development partner of Migros Bank and an expert in regulated sectors such as the financial industry, developed the requirements for the new system together with Migros Bank.
Solution
Business process automation with Flowable Work
Flexible and scalable technology for process automation is used for the implementation. Intelligent Business Automation (iBPM) is dedicated to digitalizing business processes. Flowable Work as a digital platform connects business and IT through its low-code functionalities. This enabled the automation of previously manual processes in the back office. As a result, account openings are now performed automatically.
The benefits:
Flowable's open architecture allowed the development team to integrate easily with the existing system landscape of the previous onboarding application.

Thanks to the integration into the existing system environments, the communication and information flow has become easier and any disruptions have been eliminated.

The many customization options that Flowable offers in terms of design or functionality make the customer experience unique.
Making regulatory adjustments, for example, is much easier in a BPMN model within Flowable Work than in a self-programmed workflow.
Yves Jacot, Solution Engineer at Migros Bank
App process:
1. A client goes through the opening process and identifies him-/herself.
2. Migros Bank automatically performs various checks and then registers the new customer with all contracts and products.
3. The client is notified by a text message that the account has been opened, and can retrieve his/her e-banking login credentials digitally.
Implementation in just 10 months thanks to strong teamwork
The optimized digital onboarding could be implemented from concept to comprehensive solution in less than one year. After the start of the analysis in August 2021, the effective start of development followed in December. The app went live just six months later, in May 2022. This rapid implementation was made possible by a strong and agile team consisting of Migros Bank and Mimacom employees. The use of Scrum methodology in a cross-functional team significantly contributed to the success of the project. The digital onboarding solution will continue to be upgraded and improved in regular feature releases.
The agile project team, consisting of our Migros Bank and Mimacom employees, has performed very well. The close collaboration in the spirit of partnership contributed to an efficient and satisfactory implementation.
Karin Bürki, Product Owner at Migros Bank
Conclusion & outlook
Migros Bank's digital onboarding is future-proof and can keep pace with new business concepts such as those of neo banks. Placing such emphasis on being close to clients and understanding their needs is critical to a bank's long-term reputation. With the new onboarding solution, Migros Bank has once again proven that it not only meets but even exceeds high client expectations. The bank now has the opportunity to respond quickly and flexibly to market changes and regulations, allowing it to strengthen its position in the market.
We obviously look at our online competition and always think about how we can stand out. While we have certain guidelines, we still make sure to focus on speed and automation.
Are you planning a digital onboarding or would you like to accelerate your existing process? Contact us.